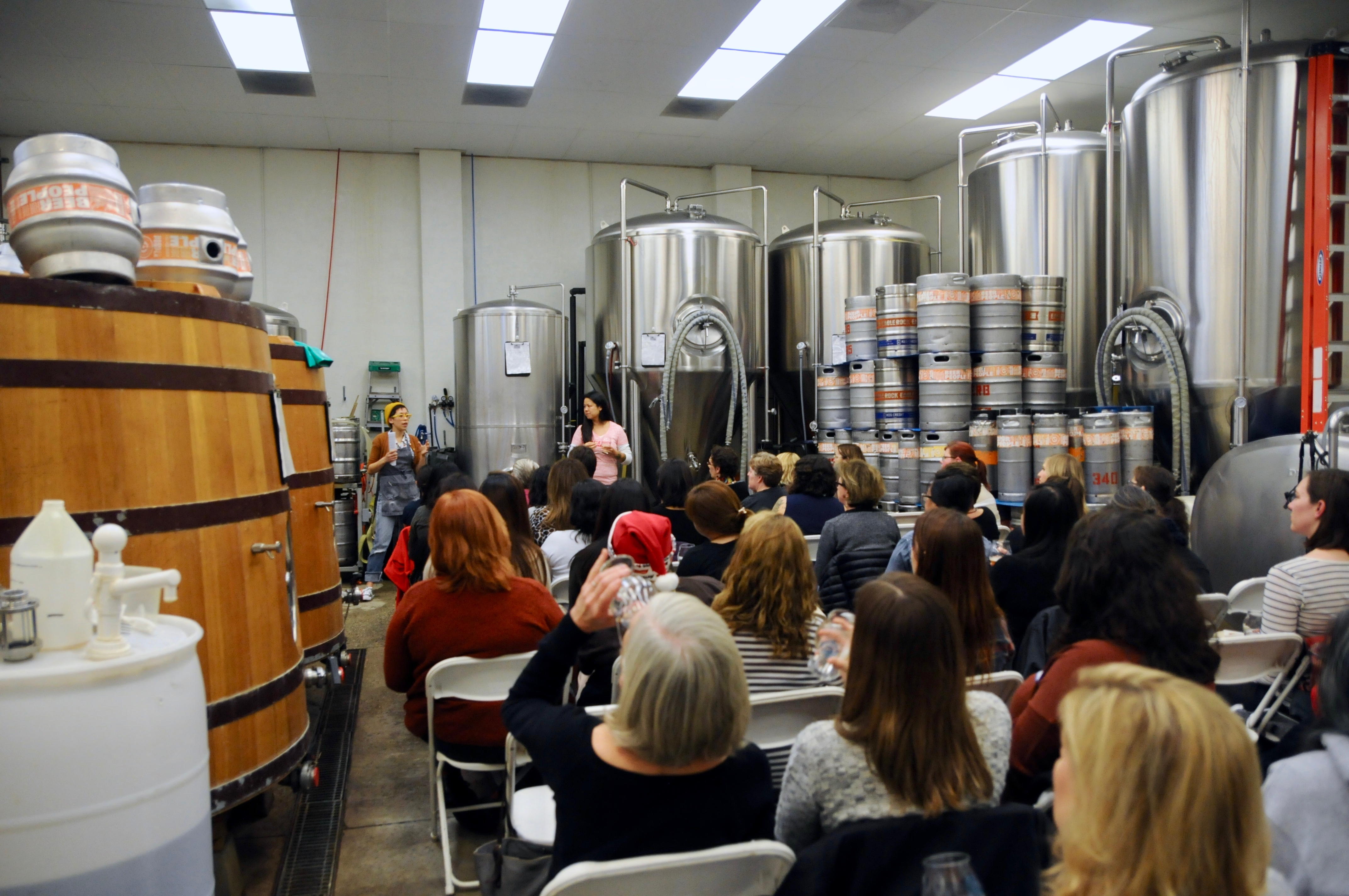 Women's Beer Forum
Women's Beer Forum
Location: Los Angeles, California, USA
Opened: 2011
Closed: 2018
It's true. The boys are even afraid of you sharing a brew with your gal pals. God only knows what you're talking about or you're planning. They need to be there to monitor!
By Beth Demmon
Oct 19 2018, 2:34pm
Women-Only Craft Beer Forum Shut Down By Men's Rights Activist
Ting Su, co-founder of Eagle Rock Brewery and host of the event, now finds herself needing to raise money for a legal defense fund.
The Women's Beer Forum, hosted by Los Angeles-based Eagle Rock Brewery, is the latest victim in a long line of so-called "gender-based discrimination" lawsuits initiated by various men's rights activists (MRAs), who are lashing out events and promotions designed for women.
According to its GoFundMe page, the monthly meetup—started by Eagle Rock co-founder Ting Su—was created in March 2011 after Su witnessed women get "pigeonholed by their male counterparts into drinking only specific beer styles. And when women asked me (a fellow woman behind the bar) about beer-style recommendations," Su continues, "some men would interject by sharing what they thought women should drink. After seeing this so frequently I felt compelled to create an environment that was less male-dominated than anything else in the beer world."
The group's overall goal was "to serve as an educational platform for more women interested in learning about beer, tasting through different beer styles, and being with a community of other women who enjoy good beer." In short, it was a group created to serve as a counterbalance to a culture in which roughly 70 percent of craft beer drinkers are men.
It's far from the only group with this goal; the national women's organization Pink Boots Society, with over a thousand members across North America, was also designed to "assist, inspire and encourage women beer industry professionals to advance their careers through education."
Aggressive exclusionary tactics to keep men out were never used, Su says. In fact, men often participated and even presented at the meetups in the past. But in November 2017, a self-described MRA contacted Eagle Rock Brewery regarding the upcoming forum and was told it was for women only. That's when the threats began.
"He then proceeded to demand thousands of dollars from us, while also threatening a discrimination complaint through the government if we refused to pay. Since he had never purchased admission through our online sales portal, we were unaware about his request to attend the Women's Beer Forum. We apologized about the miscommunication and offered him an opportunity to learn about the same flight of beers provided at the event for the same ticket price. He declined the educational opportunity and instead filed a claim through the Department of Fair Employment and Housing (DFEH)," explains Su on the GoFundMe page.
At the advice of her attorney, Su declined to name the activist. However, public court records and other media reports identify the man as Steve Frye, who once sued Donald Trump for being sexist against men.
See the rest here